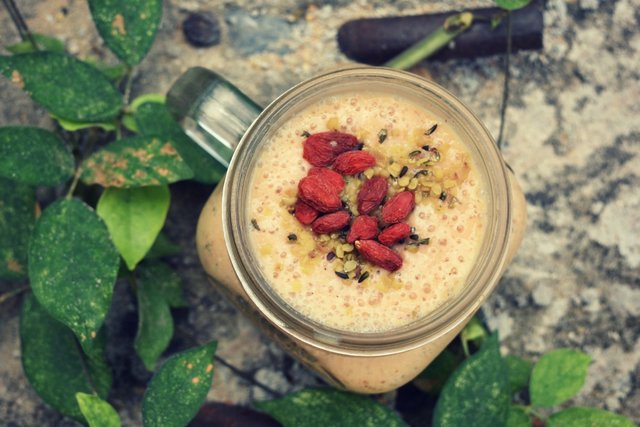 Greetings steemit friends. Just finished a 30-minute HIIT workout and powering up with this hemp carrot smoothie right now. Though I did a lot of vinyasa yoga and fitness training in the past, limited free time has pushed me into finding other ways of keeping my body healthy and fit.
Daily, short HIIT or TABATA workouts are my new fitness addiction. And I must say I am loving it. Never heard of them before. No worries. I'll give you a quick explanation.
✔ HIIT is short for high-intensity interval training. It is a training technique in which you give all-out through quick, intense bursts of exercise which are then followed by short recovery periods. This type of training brings up a sweat and keeps your heart rate up, burning more fat and building more muscle in a shorter period of time.
✔ Tabata - named after a researcher, Izumi Tabata, who discovered the benefits of this way of training back in 1996 - is a specific type of HIIT. Tabata is a four-minute workout consisting of 8 rounds of 20 seconds of high-intensity workout followed by 10 seconds of rest. Though longer Tabata sessions are not uncommon, the authentic Tabata with its many benefits only takes up 4 minutes of your time. I am sure you can squeeze one or two of these into your day, right?
So depending on the time I have I squeeze in a HIIT or Tabata every day. Sometimes I will do only a few minutes, other days I like to go for a 40-minute workout.
Today, 30 minutes was just what I needed. Feeling refreshed and energized.
# POST WORKOUT CARROT HEMP SMOOTHIE 🥕🥕🥕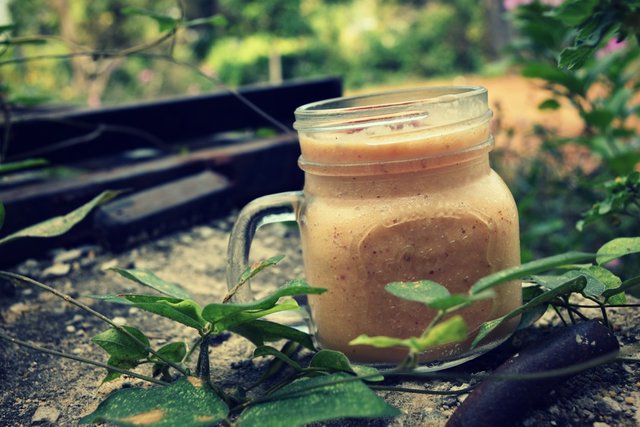 ## INGREDIENTS (SERVES 2-4)
2 cup mixed fruit (i used a mix of mango, pineapple, and papaya) 2 cups freshly squeezed orange juice 1/2 avocado 2 carrots 1/4 cup coconut yogurt 2 tbsp hemp seeds Optional toppings hemp seeds and goji berries
FYI: interested in learning how to make your own probiotic coconut yogurt? [CLICK HERE[(https://eatlove.live/homemade-cultured-coconut-yogurt/) to get my recipe.
## DIRECTIONS
Blend all ingredients until smooth. If the smoothie is too thick, add more water or fresh orange juice and blend again.
Optional: Top with goji berries, hemp hearts or other superfoods/toppings you like.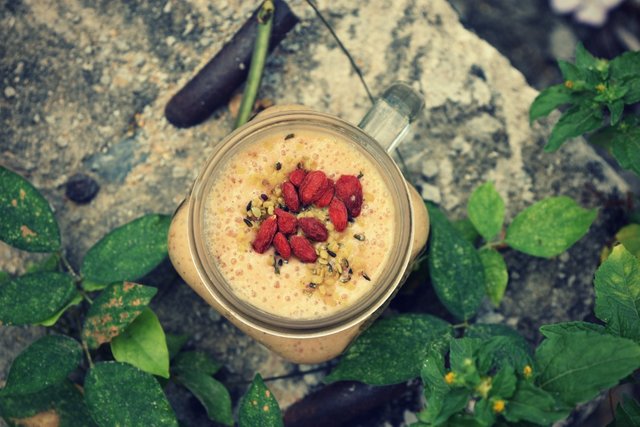 WISHING YOU ALL A WONDERFUL DAY ღ ღ ღ
---

##

FYI: For green smoothie tips, tricks, and recipes, download my FREE GREEN SMOOTHIE EBOOK HERE !
ALL CONTENT IS MINE AND ORIGINAL!
PICTURE(s) TAKEN WITH NIKON D5600
LET'S CONNECT!
---
Website - Facebook - Google+ - Twitter - Pinterest - YouTube
---
🥑🍓🍆 FIND MORE YUMMY PLANT-BASED CREATIONS BELOW 🥑🍓🍆
SPICY BUTTERNUT SQUASH & BLACK BEAN TOSTADAS WITH PARSLEY AVO SAUCE 🌶🌶🌶
VEGAN ACAI BERRY NICE CREAM - ICE CREAM FOR BREAKFAST!?! YES YOU CAN!
AVOCADO PARSLEY PESTO ON RYE WALNUT TOAST
EASY WEEKNIGHT DINNER - ROASTED CHICKPEA AND CAULIFLOWER NOODLE WITH HOMEMADE ROASTED VEGGIE SAUCE
DIY SUN-DRIED TOMATOES - THE EASY WAY
RAW VEGAN ACAI PASSION FRUIT TART (GLUTEN- AND SUGAR-FREE)
---


SHOUT-OUTS!