Hi Steem! For anyone interested, here's the wrap from our recent Winter van trip.
July 9: Sydney - Limeburners Creek (199km, 1 night) July 10: Limeburners Creek - Glennifer (suburb of Bellingen) (356km, 3 nights) July 13: Glennifer - Dungog (171km, 1 night) July 14: Dungog - Paterson (33km, 1 night) July 15: Paterson - Martinsville (67km, 1 night) July 16: Martinsville - Sydney (141km, HOME)
Highlights
Sunset at Limeburners Creek
There were a lot of potholes filled with large puddles but thankfully we were early enough so that we didn't have to take on the unsealed road in the dark. The other campers were mostly drunk or stoned or both but it didn't bother us. We had a lovely lakeside spot and the sky turned it on for a sweet sunset!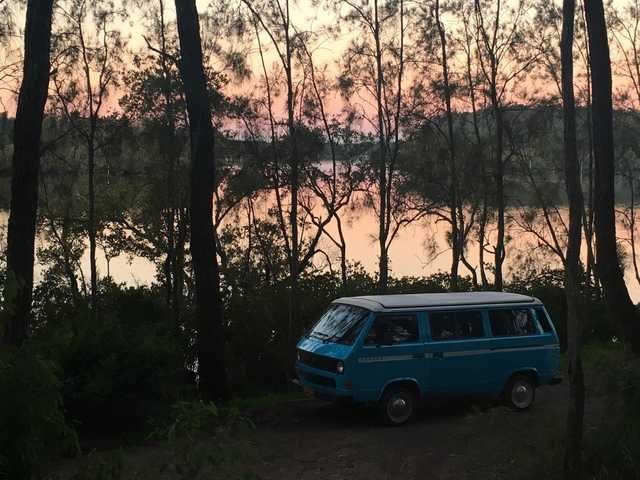 Tattersalls camp ground (Limeburners Creek) - arrived just in time for this
Relaxing time in Bellingen
The names of the local geographical features say it all - 'Never Never river' and 'The Promised Land'. In Bellingen, we did not stay in the van, we stayed with friends in their beautiful home. They cooked us some lovely meals. I spent a lot of time sitting on the couch reading a book, and also did some odd jobs around the place - whipper-snippering and collecting and husking macadamia nuts. I love Bellingen. We will return again soon!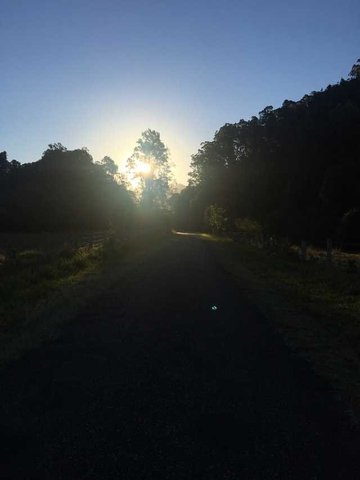 The road to the Promised Land
Bellingen (Bello) Winter Festival
The festival runs over four days - the first day (night) is a 'gala' show (Thursday) where some of the headline acts perform shorter shows in one venue for folks to get a bit of a taster. We attended the second day (Friday - late afternoon and night). The third (Saturday) and fourth (Sunday) days are half-day and all-night affairs. The only music festivals I've been to previously have been big, commercial festivals - the ones where you know all the headlining acts. This one was the complete opposite - we hadn't heard of any of the performers. We had to read all the bios in the program to make our choices for who we wanted to see. The strategy was to choose acts that sounded a bit different, avoiding middle-of-the-road singer-songwriters - not that there is anything wrong with that style of music. I was so impressed with the level of talent on show. These were my favourites:
Hat Fitz and Cara
They were a husband and wife team - Hat on guitar, and Cara on drums and various other instruments, whilst both sang. They performed a country-folk-rockabilly high-energy show with witty interludes that lasted about 45 minutes. Afterwards, we had a break to eat dinner in the local pub and they were there having their dinner too! I couldn't understand why they weren't getting special treatment.
Horns of Leroy
These guys were a brass and percussion band, consisting of two trumpeters, two trombonists, one sousaphone and two percussionists (one on snare and cymbals, the other on bass drum). The bass drum guy wore his drum and stood the whole time which looked really cool! They played ska-funk type music. Some of the material they played was their own and some of it were really clever renditions of popular tunes. My only criticism was that for their own songs the lyrics were pretty lame (examples: "We play funk. Let's get drunk", "Hey pretty girl in the red dress, I think I like you" - or something like that). The seven year-olds I teach could have done better!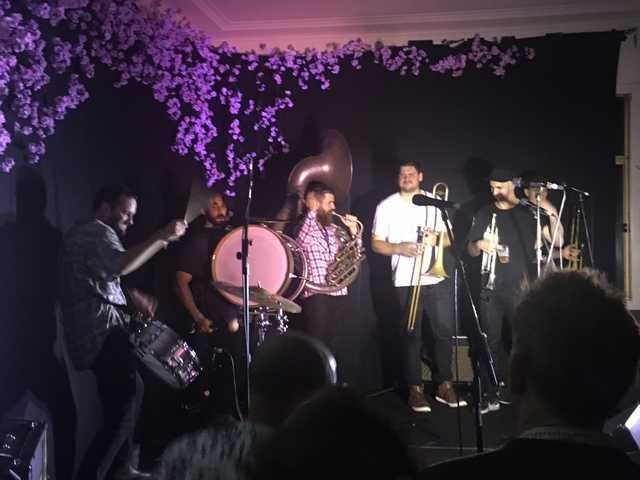 Horns of Leroy - definitely hipster
Graham Moes
This guy was a one-man band. Again, he played a mix of original songs and arrangements of popular tunes. We missed the beginning of his set, and for the first song we saw I thought 'This guy isn't even doing anything!', until I realised what was going on. He had some sort of looping device, a guitar, a sweet little Korg synthesiser and a couple of little percussion instruments. He also beat-boxed and sang (obviously). So he played a few bars with one instrument, and his looping device would record that, and then he'd keep adding layers (or tracks) with different instruments. It was super-clever ... and that's why I thought he wasn't doing anything at first, because he'd obviously already created the instrumental parts and then was just singing and playing his guitar over the top of the looping tracks.
Beautiful spot at Bangalow camp ground (Martinsville)
When we arrived at about 3:30pm, there was no-one else at the campsite, which was absolute bliss! There was another campsite about 1km down the road that had a few campers. We decided to what we never do - light a fire. Just before we lit the fire another camper pulled in. Sigh. Ah well. The fire kept us entertained for over an hour. Then we had to make dinner in the dark in the freezing cold :-)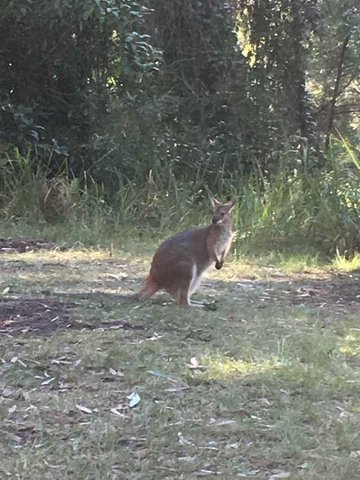 For a while it was just us and this guy at the campsite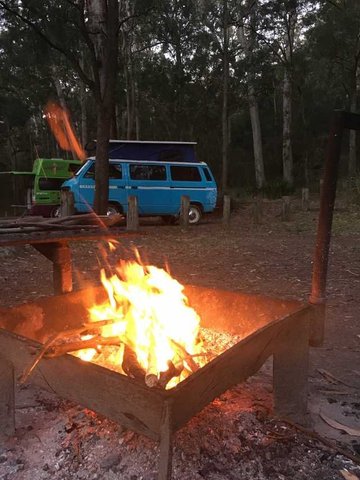 Fire with funky light-reflection effect (accidental) and glimpse of Jucy camper in the background, our late arriving neighbours
Lowlights
Cold nights!
The cold nights weren't that bad. The trick was to have plenty of layers. I also wore a beany to bed, which kept my eye mask in place. I saw keeping warm as a challenge, so it was actually kind of fun.
Leaving Bellingen too late and arriving at our destination in darkness
We settled for the parking lot in the bowling club in Dungog. This wasn't originally where we intended to camp, but it was OK. It had a hot shower. It was also nice and clean!
Arriving home to notice a leaking coolant tank
Very annoying. The van will need a visit to the mechanic this week. I'm thinking maybe the bottom of the car hit something on the bumpy road out of the campsite on the last day? Not sure. But it needs fixing.
Posted using Partiko iOS
SHOUT-OUTS!