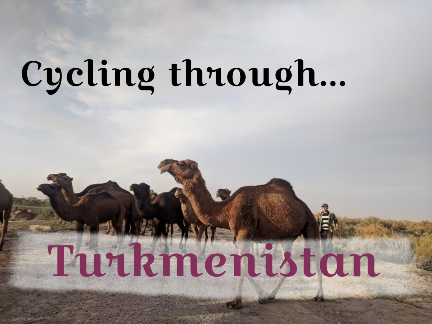 Watch the video here: https://d.tube/#!/v/pushpedal/QmQuCJP2nthWcZhan5jtbSQ99w1LGxZmCSEhx6skyTJDJ4
Stressing about the short visa we had didn't help the situation. We had to cycle 500+ km in 5 days, through desert and temperatures over 30°C! Little did we knew a miracle happened. Our friend Mark met up with us just before crossing the border and gave us a ride for 300+ km. What a life saver!
Locations: Turkmenistan - Merv, Tejen, Sarahs.
* Video is sized for mobile phone *
Brief Descriptions of the Clips
Our first experience seeing camels up close from inside the car. The herd was towering over us and we just stayed inside and not move the vehicle at all. Watching tentatively of course.
Our route didn't have many attractions. This was a masoleum of a king. We didn't go in because it was expensive for the ticket.
Merv used to be an important Silk Road city, now it's abandoned, quiet and barely resemble it's glorious pass.
Glamping was something we've never had the opportunity to do. In a campervan there was almost everything you need and it was a very enjoyable few days.
While waiting for the hottest part of the day under shade, we got some cheap ice cream!
Once we set out, it is basically all desert and some plants. The heat and dryness is manageable thanks to the slight breeze from our cycling.
Coming into Sarahs we had a terrible storm. The tailwind pushed us right to our destination, but the dust thickened and made us a bit nervous
A kind family invited us to their home. We initially asked for a hostel or campsite but seeing the terrible storm, they kindly invited us in.
To show our appreciation for the hospitality, we made them donuts and pizzas. Everyone was happy to try our homemade food.
We could see the Iran side behind the numerous fence lines. We had a few hiccups during the border processing, but soon enough we got out and crossed into Iran.
Video made using Instagram Stories and Quik.
---
Posted using Partiko Android
SHOUT-OUTS!