Quick And Dirty Running TIps Every Friday - How To Run Longer When You've Never Run Longer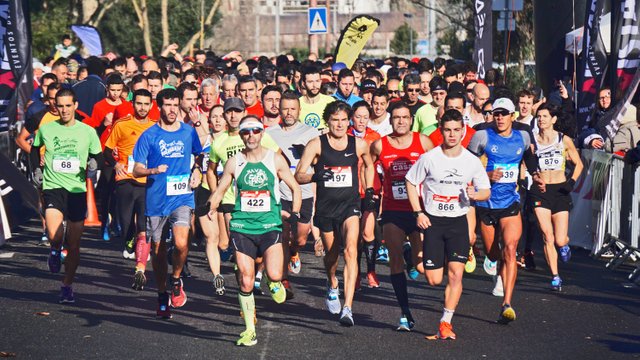 Image Courtesy of Pexels.com
I've been doing a lot of longer posts over the past few months which I'm hoping to still get out. As well as this, I am starting a new series of posts of quick and dirty tips every Friday to hopefully get you pumped and ready for the weekend.
If you have any of your own tips, make sure you add them in too.
When I first started running, I promised I would never run races longer that 4km or 5km long. That changed and it might also change for you one day. If it does, here are some quick tips to get you running further with little fuss.
Build Your Distance Slowly. If you're training for a marathon, you don't need to be running 42km in one training session. Build up slowly with the usual standard of increasing your weekly mileage by 10% each week. As long as you are able to run a third of your goal distance, consistently in training, you should be able to get through your race day without any issues.

Monitor Your Heart Rate. For longer runs, we want to stay in aerobic heart rate zones, and for newer runners this will be about 180 beats, minus your age to get your aerobic heart rate. Staying at a lower heart rate will let you run further than normal, teach your body to burn fat as fuel and decrease the chance of injury. If you don't have a heart rate monitor, make sure you can run and hold a conversation at the same time.

Break Up Your Run With A Walk. No one ever said you have to continuously run. You could decide to walk the aid stations or walk for a minute after running for 10 minutes. You might find that even a short rest can give you a much needed lift and you may actually be able to run faster with the extra break.

You Can Still Do Intensity Runs. Don't forget high intensity running will also improve your endurance as well as speed, so don't worry that a sprint session you have planned is going to send your progress backwards, just give yourself enough time to rest between runs(See next tip)

Don't Forget To Recover. Especially after a weekly long run, make sure you are giving yourself enough time to recover and allow your body to get used to the new distance you've covered. This is where the gains are made as it gives your body the ability to strengthen and get used to the new stimulus.
If you have any tips, feel free to share them as it's ways great to hear what other people have done in their training.
About the Author Hey I'm Vince, an Aussie living in New Zealand, trying my best to make the most of the time I have. I work as a Software Engineer but love to run and all aspects of it, including geeking out on the latest science to help get the most out of my body.
For more information about @runningproject please see the latest status report: https://steemit.com/runningproject/@runningproject/runningproject-how-to-get-involved-and-become-an-approved-runner
If you're interested in getting rewarded with Steem for your activity make sure you check out: - Actifit - Exhaust
Written by @run.vince.run on behalf of the @runningproject
SHOUT-OUTS!