Four runs this week, with a Park Run PB to top it off. Particularly pleased with this week's efforts as I had that great big pain in the arse called work to deal with Weds -Friday.
I track most of my runs with Garmin, which auto uploads to Strava , and upload my walking/ running totals via my alt account (@self-track) via @actifit.
Weekly running summary:
Total kilometers this week: 15
No. of runs: 3
Sunday's Run - 11K long run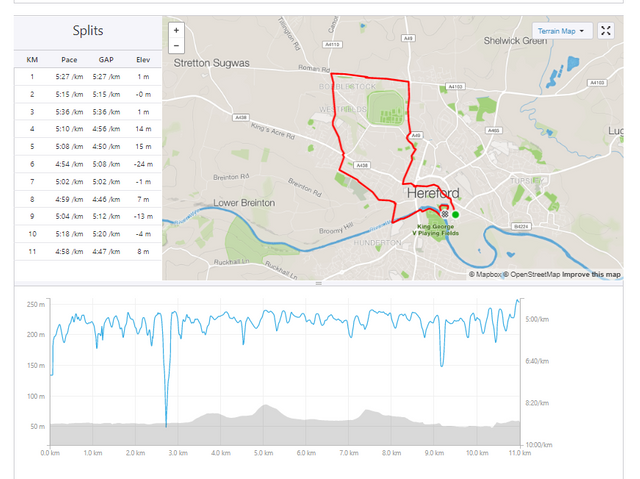 I didn't fancy driving out so I tried out a local 11K road run - I found the route on Hereford Courier's website, and it really is a 'runner's road route' - only 3 places along the entire route where you might need to stop for traffic, which is pretty impressive given the distance! It was also handy as it goes within 100 meters of my front door, so with a slight mod I had my run!
Took this nice and easy, I imagine I'll be returning to it a lot when the weather turns nasty.
Tuesday's Run: 5K Intervals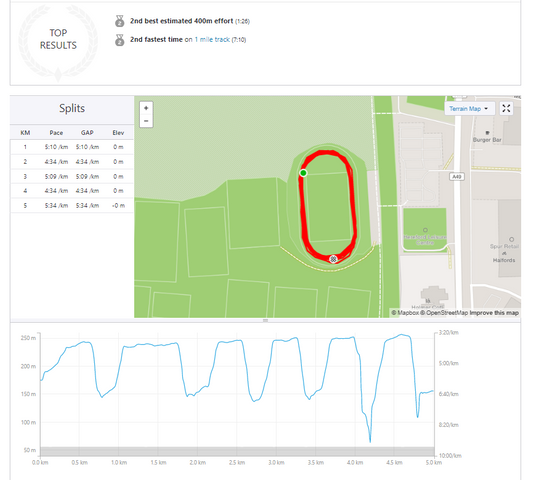 1 400 Meter, then 1 800 Meter, then another 4 400 Meters.
These felt brutal towards the end - and Strava tells me I got my second fastest 400 time, so happy dayz!
Thursday's run - 5.40 a.m. 5K easy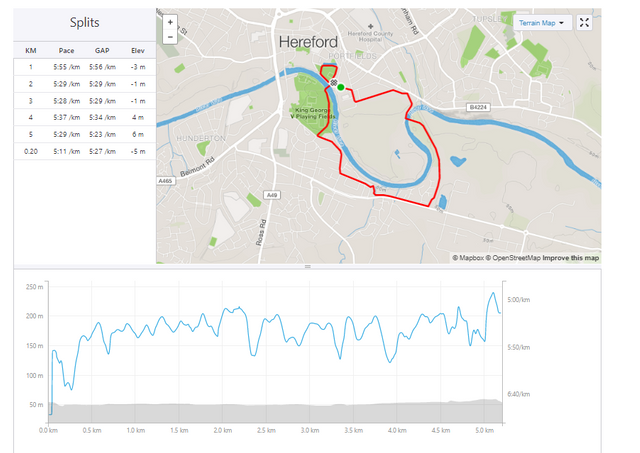 Had to leave at 5.40 a.m. to get this run in - I cut it back by 1K given that, not a bad compromise given having to work!
Saturday's Run: Park Run!
13th and a New PB! 20.53 results . Conditions couldn't have been better - around 12 degrees, sunny, no wind, no humidity. In fact 6 out the top 14 got PBs today!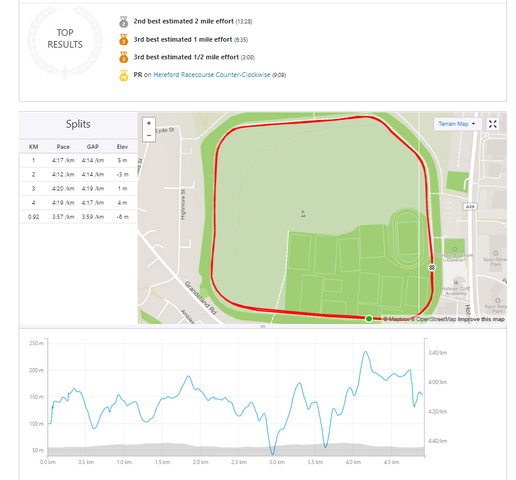 I had planned to pace this like usual and go slower, but I was also aware of the conditions, so I just decided to go with a slightly faster pace on the first lap and see if I could hold on, and it all worked out pretty nicely. That last K was pretty rough though.
Had I not had three days of work stress previously, I probably could have gone faster.
Next week's running plans
Got to work (Again) Tue to Thursday and then Sat, so no Park Run unfortunately. So I'll probably do the following:
Long run Sunday
Easy 5K run Monday
Intervals Wednesday evening
5K 'Park Run Equivalent' on Friday
Back to long run on Sunday.
SHOUT-OUTS!