http://runnannyrun.co.uk/wp-content/uploads/2019/11/FEATURED-IMAGE-1.jpg
Being a nanny who runs, it's sometimes hard to fit everything in. My family always comes first so when I'm asked to babysit of course I jump at the chance to spend quality time with my babies. I work part time too so sometimes it's hard to fit the amount of running in that I like to do so the idea came up of getting a running buggy. As I look after my grandson every Tuesday I could take him out and have a training run at the same time.

Not ever have done anything like this before, I had no idea what sort of buggy to buy, obviously I didn't want it to be expensive as it wouldn't be used that often but I also wanted it to be comfortable for the baby, I didn't want him to be bounced around too much.

I had a look online, googled reviews and decided to get the Hauck runner, jogger style with 3 wheels, 2 of which are very big air filled tyres.  The reviews were good for occasional jogging.

I ordered it and two days later it arrived, I was excited but I needed a baby to try it out!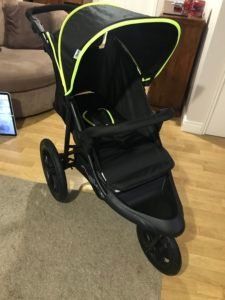 The following Tuesday I got myself ready to take my grandson out on our first running adventure together. I wasn't sure what to wear as I didn't know how well this would go, it could end up just a walk! I decided on long leggings, a T-shirt and a running jacket.  The time was crucial too as I was hoping to kill two birds with one stone, I get to run and the baby gets to nap. So after lunch we set off.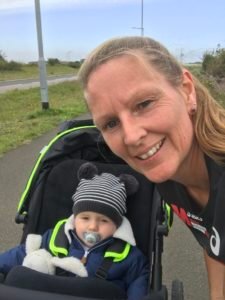 It felt a bit weird to start with as I wasn't used to running without using my arms, it was hard and I didn't think I was going to be able to do it but I was determined to make this work so I persevered. My grandson seemed to be enjoying himself, sitting there looking around and clapping his hands. I plodded on not particularly fast but still raising my heart rate so obviously still a good workout.

By 2k my grandson had fallen asleep so the plan was working.  I managed to carry on for another 4k so a total of 6k, I am pretty pleased with that.  It was tough but enjoyable.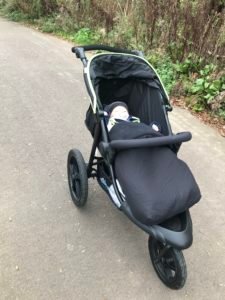 The buggy itself is really nice and smooth to push, its fairly light so doesn't make going up kerbs difficult.  My grandson seemed to be comfortable and he didn't bounce around too much, just enough to rock him to sleep. So all in all I'd definitely recommend this buggy for an occasional, amateur runner like myself.

Hopefully these sessions once a week will compliment my other runs and make me a stronger and better runner.

---
Posted from my blog with RunNannyRun
---
SHOUT-OUTS!