I planning a day walk over this bluff - Maunganui (Big mountain) in Northland, New Zealand. This bluff is the remains of an old volcano crater, and it carries a famous local legend about one of my ancestors some 18 generations ago. The loadout is a bit different because this is my first serious hike wearing a great kilt.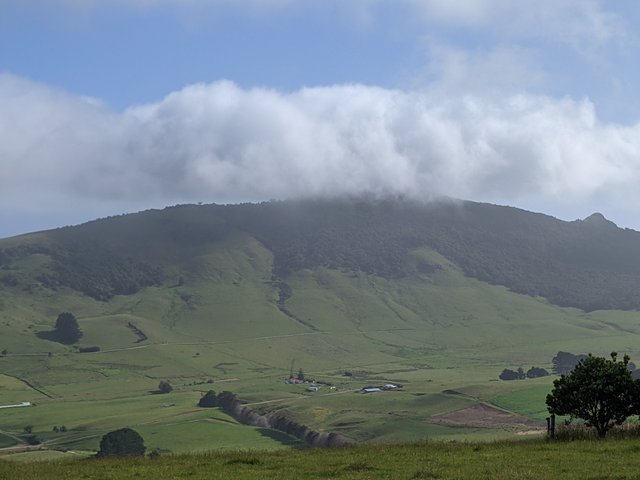 I wavered back and forth about the loadout. My general process is to pack what I think I need and then gradually trim it keeping essential needs in mind. My first load out attempt was in a NZ Army DPM day pack (about 35+ litres), but this pack was much too large, and it hampered ventilation between my back and the kilt, so time for a rethink. Below I list what I ended up carrying.
First, the clothing from head to toe: Boonie hat in some woodland-like camo, sunglasses (not pictured), Eclipse Cool shirt, great kilt and belt, leg wraps, smart wool socks and hiking boots. The colour scheme of the day is green.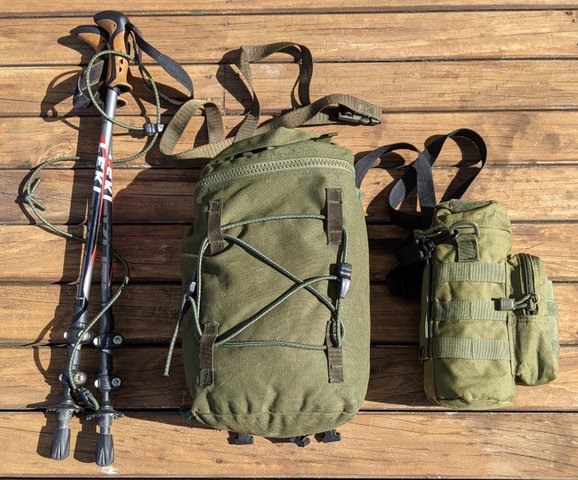 Here's what replaced the day pack: a bottle bag and a British MOD "rocket pocket" worn on cross-body straps. The trekking poles also have a cross-body strap made from bungee cords.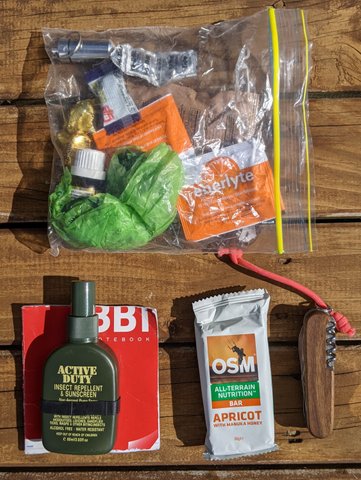 The bottle bag has a side pocket which carried a notebook, bug spray/sunscreen, a food bar worth about 330 calories and the Swiss Army knife Woodsman edition with wooden scales. The pink lanyard helps locate the knife if it's dropped. In the Ziploc bag is a day of my meds, painkillers, candies, a rubbish bag, peanut butter sachet, caffeine pills, rehydration salts and some mint oil. Caffeine pills assist with energy conversion, but shouldn't be overused. I forgot to pack a pencil for the notebook.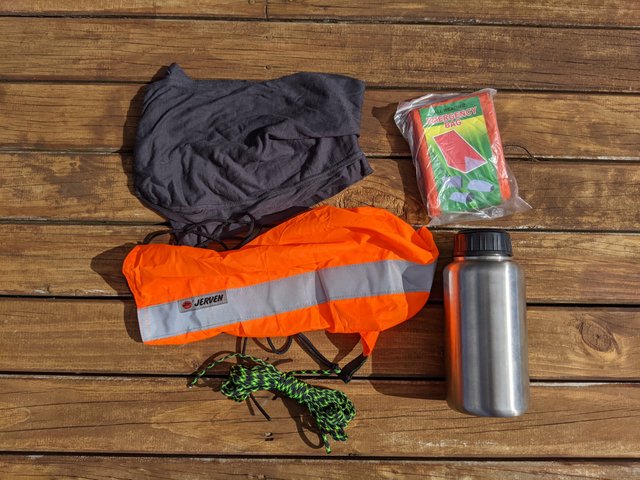 The bottle bag's main body holds a single-walled, unlined stainless steel 32oz bottle, a Jerven rescue flag, a mylar survival bag, my NxN merino balaclava head over and some extra 550 cord. The rescue flag and orange survival bag are essential items given everything I'm wearing is green, grey or brown.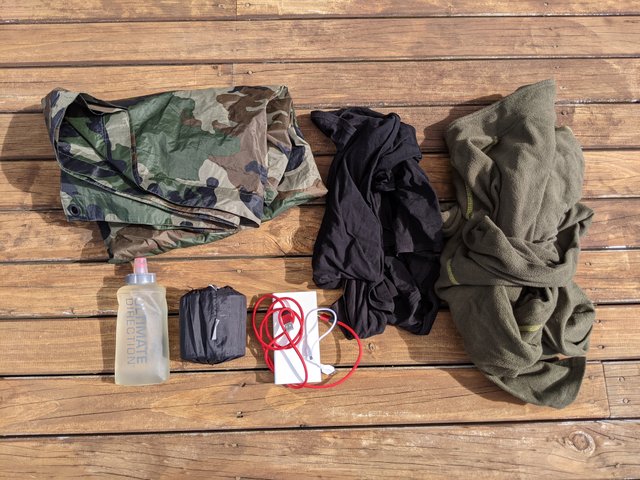 I have a 500ml soft water bottle in the rocket pocket haversack, my survival kit, power bank and cables, a fleece pullover, my NxN merino wool shemagh, and a USGI style poncho. The poncho is my main wind and rain proof layer, and the kilt and pullover my main insulation layers. My personal survival kit contains a compass, first aid, fire starting, locator beacon, headlamp and a few other useful items.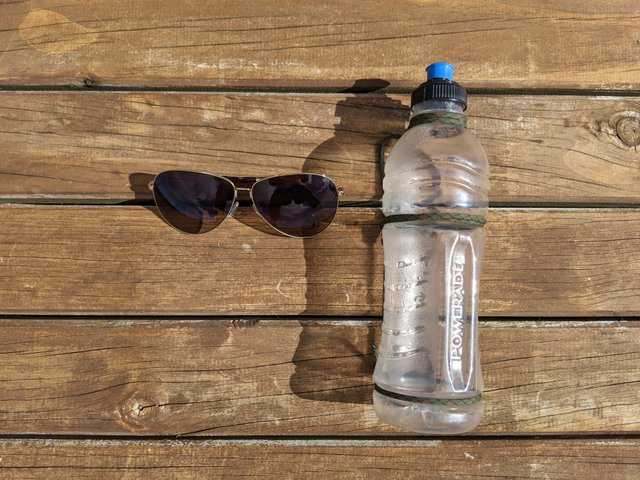 And here's my sunglasses and main water bottle. I prefer polarised amber lenses, especially for overcast days. The water bottle is an old-style 750ml Powerade bottle with some paracord tied on so I can hang the bottle from a carabineer. My usual policy is to drink from only this bottle and use the other bottles to refill this one to have clean water to share with others - yes, that happens more than you'd hope.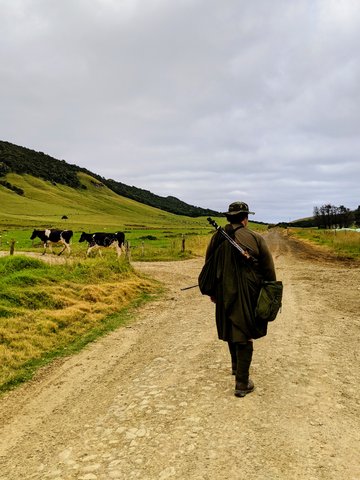 And here's me setting off on the day walk. The leg wraps cover the upper parts of the boots and socks, ending at the upper calf. I tucked the bottle into the kilt fold behind my left shoulder. The rocket-pocket haversack hangs to my right side with the trekking poles also similarly slung crossbody. The main water bottle is tucked into a kilt fold on my front right side and, since I was a bit paranoid, that kilt fold pulled up under the haversack strap to minimise the risk of the bottle falling out. My mobile phone sits directly below my belly in another handy kilt fold.
I was quite pleased with the loadout, which took some fine-tuning from packing a regular day pack, going for a test hike up and down some hills and then realising I needed to lighten the load. Yes, there are many items here I could probably do without, but since this would be my first hill walk in a great kilt I wanted to have some redundancies. A report on that walk will come soon.
Until next time.
SHOUT-OUTS!