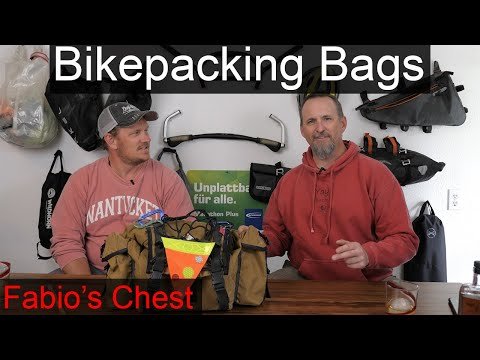 ---
In the episode we will discuss the Fabio's Chest Bikepacking Bag made by Ronnie "Ultraromance" in partnership with Swift Industries. This bag can be found, when in stock, at www.ronsbikes.com so if you keep a watch out, you might see it available at times. If you are looking at bikepacking bags, give this one a look as it is spacious, durable, and has tons of mounting options.
biketouring #bikpacking
My favorite Music Sources: Sound Stripe: https://soundstripe.com?fpr=brad78 - User code: BradBeaird for 10% off Epidemic Sound: https://www.epidemicsound.com/referra...
Delta Smart Cell Phone Holder - http://amzn.to/2nVzrAX Brooks Proofide Saddle Dressing - http://amzn.to/2pJGBES Brooks Saddle Pro Imperial -https://amzn.to/3bi9Ma9 Topeak Road Morph G Mini Pump - http://amzn.to/2rSWjlf Etekcity Ultralight portable stove - https://amzn.to/2VfrxBp Eureka Midori 2 Tent - https://amzn.to/3coIOhd Profile Designs Bar Ends - http://amzn.to/2pap2ld Stanley Cook Set - http://amzn.to/2pJPez1 Darn Tough Socks - http://amzn.to/2pLb8CW Gorilla Clip - http://amzn.to/2qVXUmS Santic MTB Cycling Shorts - http://amzn.to/2r1n978 Anker PowerCore 10000 - http://amzn.to/2quheKZ Schwalbe Marathon Plus Tour - http://amzn.to/2rmP5pW Anker PowerCore 26800 Battery - http://amzn.to/2sf5nyP Ortlieb Frame Pack - https://amzn.to/2NyYcgW Easthills Skyloft Camping Hammock - https://amzn.to/2TuE6It GoPro Hero 8 - https://amzn.to/2Kb5BBh
We are a participant in the Amazon Services LLC Associates Program, an affiliate advertising program designed to provide a means for us to earn fees by linking to Amazon.com and affiliated sites.
---
▶️ DTube
SHOUT-OUTS!