https://plantstoplanks.com/wp-content/uploads/2020/09/Tear-Drop-2020-Race-Recap.png
Happy Monday friends! I may not be able to walk very well today, but I will take the leg soreness after finally getting to race in person yesterday for the first time since March! Though I know there is still a lot of stuff going on in the world that is more important than running, my own sense of motivation and happiness has been bolstered by having that one small bit of normalcy return. In a year where so much has been put off or downright cancelled, having something to work toward and plan for was such a relief. Running is my therapy, no doubt.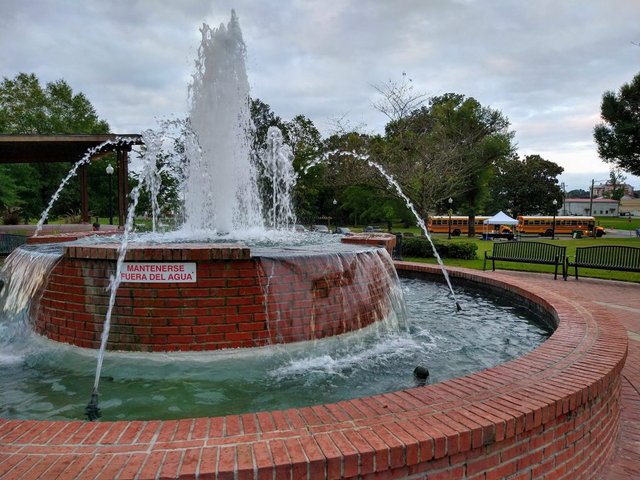 I signed up originally to do the Tear Drop 10k in April, after having done the half marathon a few years ago. The race is close to where my boyfriend's parents live, making it a nice excuse to go up for a visit. This is also the race that starts on the top of Fort Mountain, so most of the run is downhill. That presents some pros and also some cons. On the plus side, it is a great way to get a good time since the bulk of the race you have gravity on your side. On the negative, a straight downhill run does put a lot of pressure on your muscles and connective tissue, thus the high degree of soreness I'm experiencing today. ;)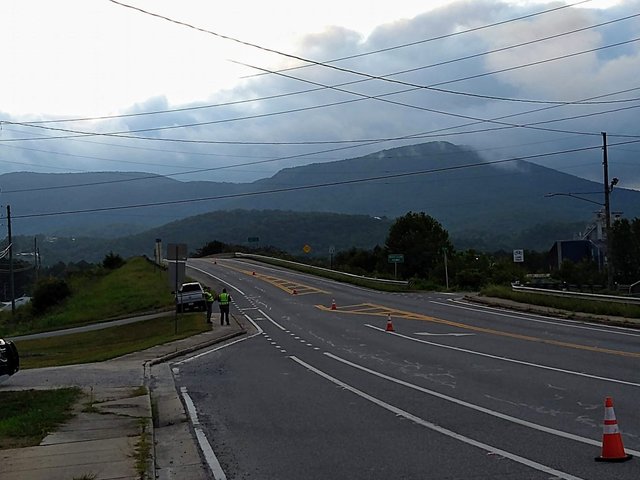 A pic of Fort Mountain from the last leg of the race.
Given that Covid is still altering the way we live and interact at the moment, racing protocols are definitely different. Since this race starts up on the mountain, we had to be shuttled up to our given starting points. To keep distancing measures in place, the directors kept the registration limited so there were less than 200 people running the three different distances (half marathon, 10k and 5k). For the 10k, which I was running, there were only 50 runners. We also had to wear masks on the bus ride up to the start, and only sit one to a seat unless we were running with family. They also adjusted the shuttle times to make sure we were up at the start line only briefly before the race began.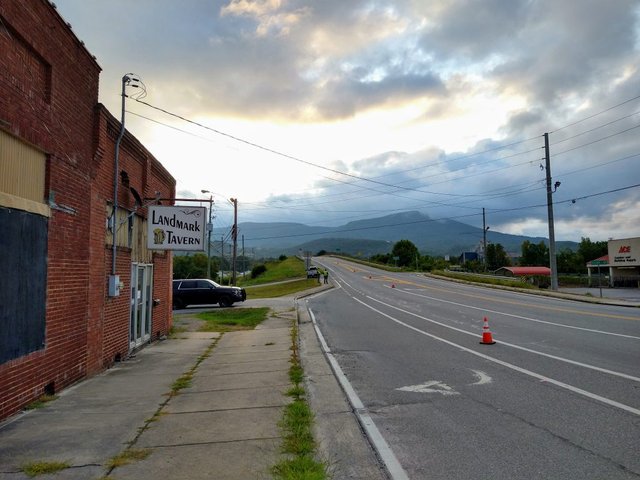 Another shot of the mountain beyond.
I wasn't worried about being around too many people for this race anyway. When I did the half marathon in 2018, after the initial few miles I ran the bulk of the rest of the race by myself anyway. The same held true for this run. Once we got going, the field spread out so I had a nice quiet run until the finish!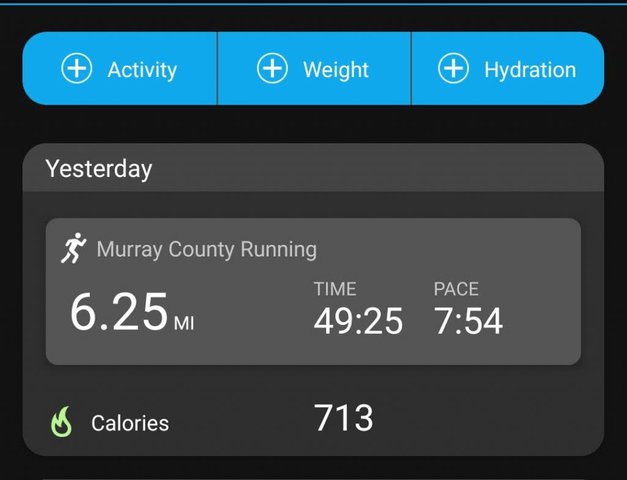 My training had been more consistent lately, but I don't think I trained anywhere near as hard as I could have to really take advantage of the downhill edge. The first few miles I felt well and cranked out a sub-7-minute mile for the first mile, and just over that for the next. Into the third mile I could start feeling the toll of the descent and gradually started slowing down slightly each mile after. The weather was also extremely humid, which takes a big toll on my endurance. The last mile as you come close the finish there are three rolling hills to hit before the flat finish. My legs were toast by the final hill!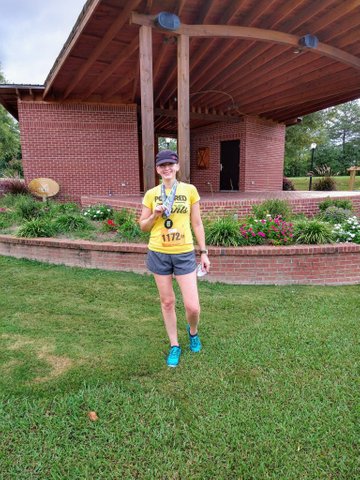 Repping the plant powered lifestyle. ;)
I was so happy to see the finish line! Despite the discomfort of the last few miles, I was still so appreciative to be on a race course again. The finish was somewhat anticlimactic as they pretty much gave you your medal, and then let you know right then if you won an age group medal to pick up. No fanfare, no awards ceremony and no post-race picnic. Totally understandable as they are trying to make sure they keep things simple and test the waters for continued races in the near future. All in all I think the race directors did a great job.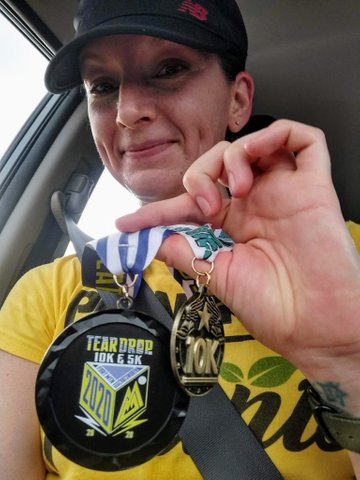 Even though my time was a little slower than I was really hoping for, I'm satisfied with finishing under 50 minutes and still getting second in my age group. Only seven people finished ahead of me, so not too shabby to be in the top 10 overall, either! I am hoping to be able to join in on a few more in person races soon, so this may just be the push I need to get serious about training hard again and setting some more goals. It won't hurt that the weather will finally start to cooperate a bit more as autumn rolls in here shortly.
I imagine it is going to be some time before the big events return, but I am a fan of the small races anyway. They give me something to work toward and many raise money for charities that don't always get a lot of national attention. Plus I stay well-stocked on t-shirts, haha!
I'm taking a few days to rest and recover (not that my legs are giving me a choice otherwise), but then time to plan for the next goal! What are you working on to finish out the year on a high note? 2020 may be a bit of a wash, but there's still time to make some positive things happen before it's over.
https://s25.postimg.cc/dqk9unx5b/plantstoplanks.png
https://i.imgur.com/hhfES5e.png
https://cdn.discordapp.com/attachments/488807459834691605/706599548289810502/TEAMUSA-hive footer blueptp.jpg
Banners by @woman-onthe-wing and @dksart

Join The Best Natural Health Community on Hive
---
Posted from my blog with SteemPress : https://plantstoplanks.com/racing-recap-first-race-since-march-2020-tear-drop-10k/
---
SHOUT-OUTS!