There was a time in my distant past that I joined a 10k race thinking that I would dominate it. I was young, it was for charity, and I did the thing in boots. I also bailed out before it was finished and this is something that haunts me to this day because well, I cheated.
There was no requirement to run the damn thing and I was just being lazy. The fact that that money was meant to go to poor kids or something just makes my bailing on the whole thing even more pathetic, especially when you consider that I was 15 or 16 years old at the time, participated in a wide-array of sports, and was more than capable of doing the race.
These days I have a different mindset.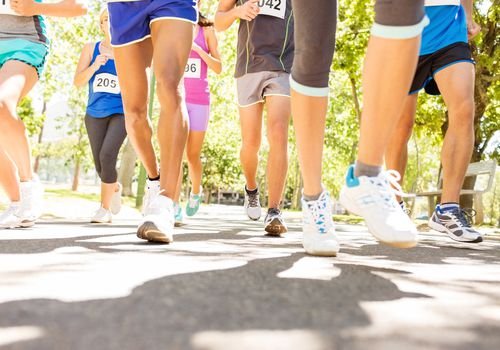 src
I join these things whenever I can these days and I am NEVER at the front of the pack, nor do I even try to be. Having such a strategy, especially for a normie, is a great way to ensure that you are going to not finish, hurt yourself, or both.
Go with your own pace, even if such a pace is WALKING. In the 5k's I enter I would say that a good 25% of the people in it walk the entire thing and that is totally fine.
I run on a regular basis so I know my pace but if you do not a key element is to not pay any attention to how fast the other people are running and just do you - chances are you are not going to win the damn thing unless you are a professional athlete and most of these races actually DO have professional athletes in them.

src
Also, and this should be obvious; do not get up in the front of the pack at the start of the race unless you have the capability and desire to stay there. You are only going to piss off the pros if you do so and they have to maneuver around you.
The main thing I am trying to get at here is that doing a 5k really isn't that difficult and even if you think you can't do it, you probably can provided you do not have some sort of disability or injury. When I go running on my own just with my headset in, I normally will do a pace of around 6 to 6 and a half minutes per km. When I am in the "races" I normally knock a minute per km off my time. Why? Because I am surrounded with like-minded people and the motivation to keep it up is a very real thing.
There is also a real sense of camaraderie at these events and you are going to meet like-minded people and perhaps even find other people that are into fitness oriented things. The last one I went to I ended up meeting a group of people that go on bi-weekly hikes on trails I didn't even know existed in the area around my city. I now go with them every time and it is great for everyone involved.
For the average normie like me, getting off your ass and doing something active can be a bit of a chore at times because we all know that watching Netflix or screwing around on the internet is far easier than actually going outside and getting your heart rate up. It is much easier to change this aspect of our all inherent laziness if you all of a sudden know a bunch of people that do active stuff and it is far more enjoyable in a group than it is on your own.
My first 5k race I entered I finished in the last 50% of the pack and that was perfectly ok with me. I was in to complete, not to compete. I have used this same mentality on a 10k and I even entered and completed a half-marathon that I did not think i was capable of completing . I did complete it although I will admit that I did walk some of it.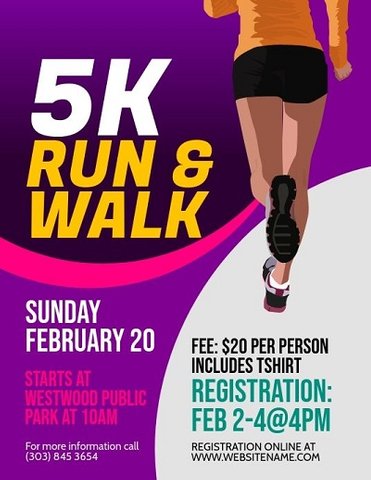 src
I included this image because they spent all that time making a poster and then forgot to change the default website address in the bottom.... doh!
Most of these things are at least in part, for charity anyway and include a T-shirt that you can be proud of later. Who knows, this sort of activity could be what jump starts you into a healthier lifestyle as well.
So the next time you see one of these things advertised, just give it a go. Walk the whole thing if you have to. Even if that is how you get through it I can guarantee you 2 things: You will not be the only person walking and it will be much better for your overall health than sitting on the sofa.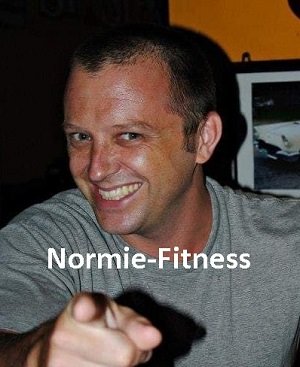 I lost over 50 lbs and kept it off by making relatively minor changes to my life and am much better off because of it... If I can do it, so can you!
SHOUT-OUTS!