I'm joyfully revisiting stories I wrote a few years ago that have since disappeared into the nether regions of other social media platforms. They were fun to write and even more fun to re-read and I wanted to share them with you! Here's one I wrote in early 2018.
---
Wooo! I've just done my 10th of 10 different parkruns! Since my 1st at Varsity Lakes (on the Gold Coast) I've been back in Sydney hitting up my local region big time. Here are my awards & musings after visiting 10 very different runs:
Prettiest course award = A tie between Dolls Point for the water views & St Peters for the tree views.
Best all round course = Kamay (most welcoming RD, most encouraging culture; everyone stood at finish line clapping people as they finished & can jump in the ocean straight afterwards because beach is right there!)
Biggest shock = Seeing the sheer number of runners at St Peters this morning (444)
Coolest thing I've seen yet = A tie between seeing blind runners run with their buddies at Willoughby and a man in a wheelchair cross the line at Kamay.
Most gratitude for = Those who volunteer consistently, with a smile on their face. You're helping me see how to do it when I schedule in my first vollie role  ;)
Number of friends introduced to parkrun to date = 2 (that have attended so far)
New friends made at parkruns (or run groups I've joined because I found out about them at a parkrun) to date = 4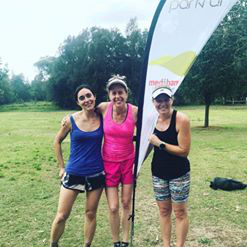 New friends made through parkrun (at Panania).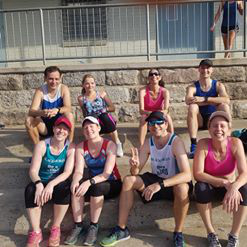 I think this was the morning we ran early from a neighbouring suburb, did parkrun and then ran all the way back for a total of 14km? Eeek! And it was hot!! (At Willoughby)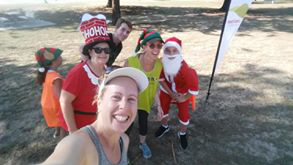 Running on Christmas Day? Yes please! (At Rhodes parkrun)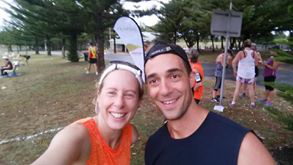 Introducing my dear friend Chris to parkrun. (At Kamay)
Finally, in case anyone is a parkrun stats fanatic, here were my first 10 parkruns in order:
Varsity Lakes (Qld)
Cooks River
Panania
Willoughby
Dolls Point
Rhodes (Xmas Day)
Kamay
Curl Curl (NYD Double)
Parramtta (NYD Double)
St Peters
---
It's so much fun to re-read this and see what I was excited about at the time. It's now more than 3 1/2 years later and I've done more than 110 different parkruns around AU! And I still get excited by many of the same things; beautiful views, watching people stretch themselves, and connecting with friends.
SHOUT-OUTS!