We have seen some rather unimpressive attendance numbers in recent weeks. Some of this was due to people traveling for Lunar New Year and another continuing problem is the fact that many Chiang Mai locals leave the area around this time of year to get away from the smog. Of course the larges problem is that many of our members are locked out of the country due to Covid restrictions. Nevertheless, every now and then we get a great turnout and that is precisely what happened this past Saturday.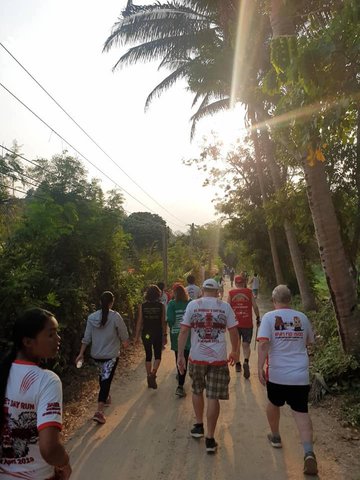 These are the kind of numbers that make these events so much fun. In the past few weeks we have had just over a dozen people or so but yesterday we had nearly 30. We even had a few newcomers turn up and hopefully they enjoyed it enough to return in the future.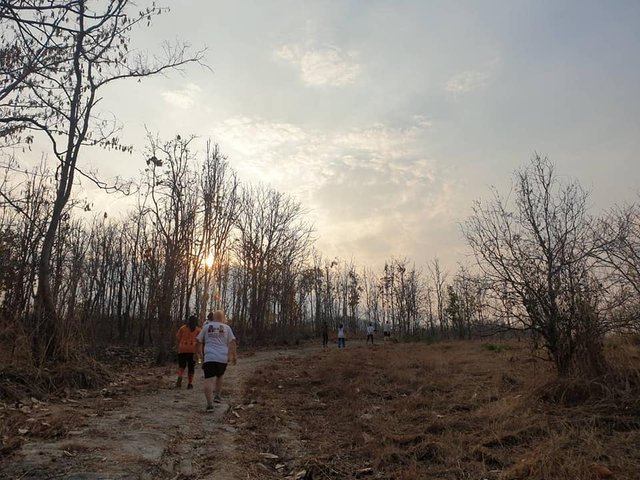 Ah, the lovely rainforests of Thailand. This photo just goes to show that the entire country isn't exactly lush and green and this is a pretty solid example of that. I don't know why this area seems so dead and desolate because it doesn't appear to be cultivated in any way.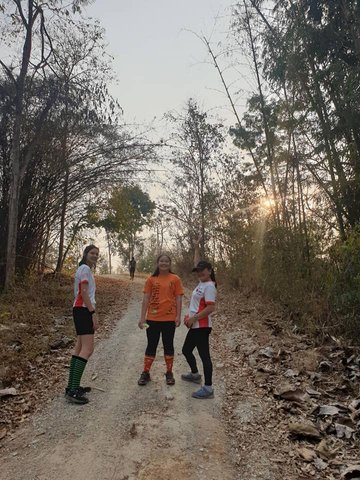 The AQI (Air Quality Index) wasn't as bad yesterday as it has been in the past but you can still see the perma-haze that is omnipresent. For the 15th year in a row the government has promised to crack down on the burning of fields that create this problem and for the 15th year in a row that was all just government lies.
The AQI fortunately dipped to around 100 (which is still pretty bad) but it was low enough that some of our more sensitive members still turned up for the Hash.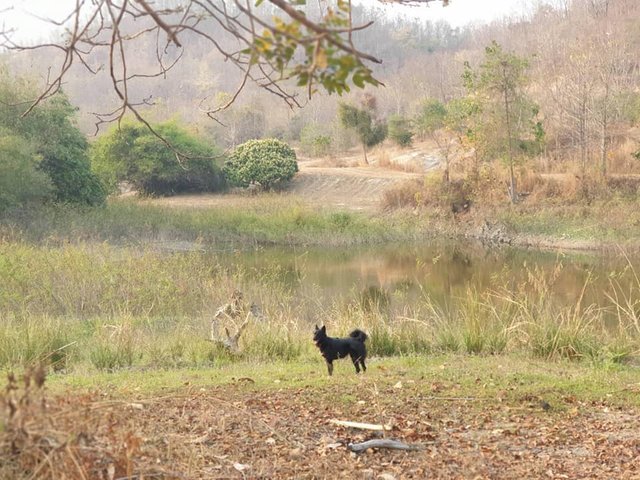 When you encounter a dog on these things it can go one of two ways. It can end up being extremely territorial and potentially dangerous or it can be intrigued at our presence and friendly. Fortunately this fluffy little guy was the latter and he followed us for a while on our run, kind of like he was a our little tour guide. We have never had anyone get bit by a dog on our runs, but there have been some scary moments, that's for sure.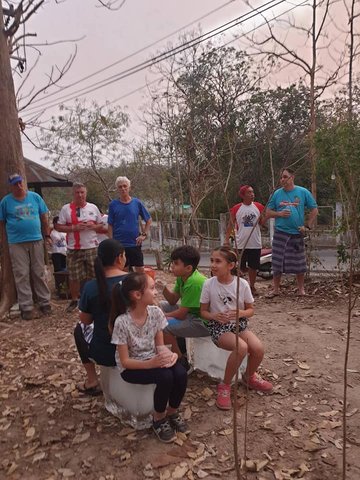 The circle was as eventful as ever and it is always kind of nice when the kids turn up and enjoy themselves as well. We like to believe that they will grow up to appreciate the Hash and be lifelong members like all of us are. I want to once again let everyone know that we NEVER give alcohol to minors on these runs, mostly because we don't want them dipping into our stash :P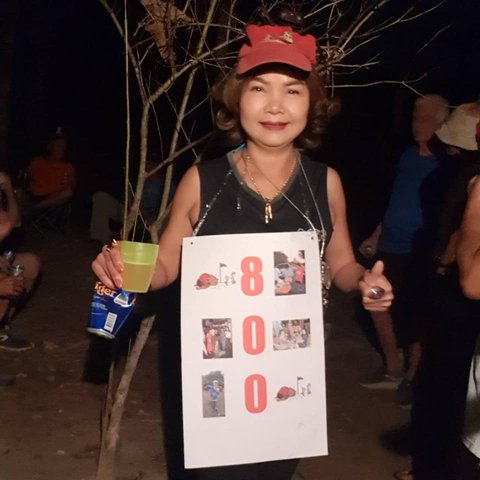 Yesterday was also a very important milestone for one of our members who achieved her 800th run in the Hash. This is an honor that very few ever accomplish and I am quite certain that she will make it to 1000 before you know it. There are at least 2 runs per week afterall and then there is also the outstations and bunny Hashes as well.
It was a great day and it was nice to see such a big crowd turn up. Let's hope that it continues like this. If you would like to come and join us you can see full details at our official website and if you are not in Chiang Mai, I strongly encourage you to look and see if your area has a Hash House Harriers and get involved. I promise you it will change your life for the better.
SHOUT-OUTS!