Doing pushups at all, even incorrectly, is better than not doing push-ups but there are a lot of people that I see doing them that are apparently much more concerned about how many push ups they can do rather than if they are doing them correctly.
This simple exercise is really important right now as a lot of the world still isn't allowed to go to gyms (we only recently got given the ability to do so) and push-ups can be done almost anywhere. But are you doing them correctly? I think if you are being honest you will find that there is a good chance that you might not be.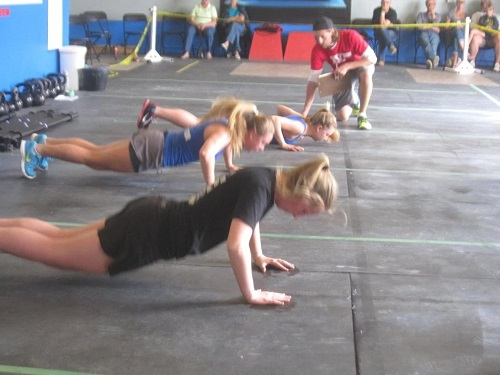 src
The girl at the back there, closest to the trainer may be the closest to correct in this group, but the other two are dead wrong in their form. I think a lot of this comes from the fact that there is a better than average chance that no one actually ever taught you how to do push-ups and we all just assumed it was simply a matter of getting your face down to the floor and back up.
Here are some common things people do incorrectly.
Don't keep the back straight and instead cheat with lifting their body weight (girl in black)
Flare the elbows out, perpendicular to the body (girls in black and with bright blue shoes)
Going only halfway down (I can't tell if they are doing this but they probably are)
Bending your torso or neck so that your head reaches the ground faster than it should.
Most people will do these things because they have a certain number that they have in mind about how many push-ups that they need to do, but the people who are chasing a number of push-ups are kind of missing the point as to why it is that you are doing push-ups in the first place.
The result of this bad form ranges from comical to dangerous. Comical because you are essentially wasting your time and not getting much benefit from it or dangerous because flaring your elbows out to the sides can damage your shoulder joint over time.
Do them correctly and do fewer of them
Who doesn't like the sound of less reps? It's easier right? Well if you are doing your push-ups correctly there really isn't much reason to do 100 of them. I normally only do 10-12 at a time and they are still difficult enough if you enforce proper procedure.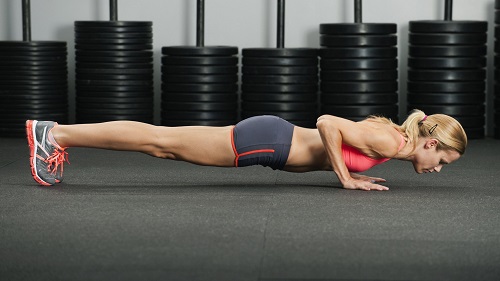 src
It's a little unfair because the woman in the bottom picture is clearly in extremely good shape but that might be at least in part, due to correct push-up form.
You need to maintain your body and especially your back in perfectly straight alignment. No dipping of the hips or sticking your ass up in the air to try to cheat your way through this. Place your hands just slightly outside of your shoulders and when you lower towards the ground your elbows show be bending the same way as your body, NEVER to the outside.
Slowly lower yourself to the ground until your chest touches the floor (not your head!) and then slowly raise yourself back up. Even if you are only capable of doing 5 of these, it is much more beneficial than if you do 20 incorrectly.
I promise you that you will feel a noticeable difference in the "burn" in your chest muscles if you correct your push-up form and you will also spend less time doing push-ups. Personally, I hate push-ups and the idea of being able to do less of them with correct form appeals to me, and I think most other people, immensely.
Word smarter! Not harder!

From athlete, to fat-lete, and back again
SHOUT-OUTS!