run.vince.run - Morning Run
Apr 12 || 5.387 km || 0:27:37 || 5:07 min/km || BEST SPLIT KM || FASTEST PACE || 0m Climbed
User isn't sharing maps. That's their choice and you should be okay with it.
@run.vince.run's Activity Notes:
Its always annoying when Strava doesn't give you your full run, but it hasn't happened in a while so I should not be too annoyed.
This week has been all about getting my body fully recovered after a race over the weekend, but I have been trying to speed things up a little quicker than usual because I have a VO2Max test tomorrow at Auckland University. I am always on the look out for a PHD students needing test subjects to study. it usually gives me some interesting information about research going on at the moment as well as I usually get a VO2Max test or something similar to see my true progress over the past few years.
So with that in mind, I have actually been trying to improve my VO2Max over the past few weeks to make sure I get a good result tomorrow. These research studies usually consider a VO2Max test suitable for their research as anything over 50, but my previous tests have been between 63 and 65 so don't want to drop too much from these levels.
Going back to today's run, it was a little rough. Partly because it was first thing in the morning, and partly because I am probably still not 100% recovered from my race. Fortunately my VO2Max test will be on a bike and not a treadmill.
You have uploaded 81 running activities, and 18 of them have been of similar distances (within 10 percent)! Here are your 5-fastest running activities of a similar distance:
Auckland Marathon Sunday Racing - 5.244km @ 4:14 min/km pace.
Changing My Running Mindset - 5.62km @ 4:45 min/km pace.
5km Lunch Run - 5.063km @ 4:53 min/km pace.
Lunch Time Tempo Run - 5.802km @ 5:00 min/km pace.
Lunch Time Tempo Run - 5.771km @ 5:02 min/km pace.
Over these 18 similar activities, you have travelled approximately 95.99 kms at an average pace of roughly 5:26 min/km!
Looks like you went a bit faster than usual this time! Nice work!
0.000 SBD | 0 | 0 |
Does not matter how unfitted you are, just gently start running.... @runningproject quote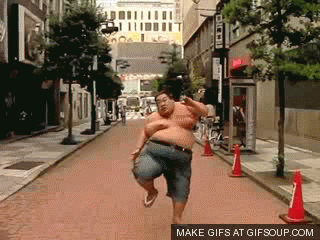 0.000 SBD | 0 | 0 |