I just finished a 7.276km run that lasted about 0hh:43mm:7ss !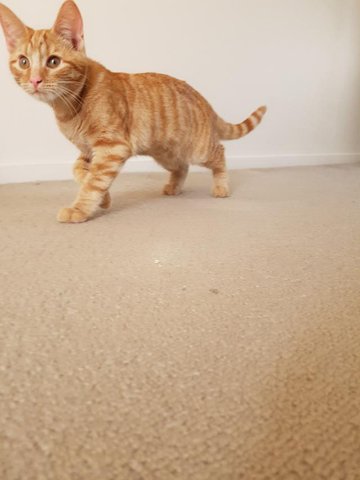 Just a Random Cat Picture For Your Amusement
Meet Rusty. We've had him since just before Christmas and he has been a part of our family since then. The reason why I included him in my running post today is because he also like to run. Even though he is an indoor cat, he does his best to continuously run up and down the stairs and through out the house. We have another cat Tim Tam, who has been with me for over 16 years now but although she is the best cat, she chooses to spend these years of her life lounging around and sleeping.
Anyway, buck to the run. We are now under three weeks till Ironman and today, after a nice ride out to the beach on a sunny day, we got off the bikes and did a nice a run around our neighborhood. Kirsty had planned to run for 5km, at the end of the loop, I asked if she wanted to join me for a couple more kilometers as I finished my run. She joined me for the rest of the run without any issues and now we are relaxing with our final training session for the week done.
For more details on my run, feel free to checkout Strava
Check out some detailed info at my EXHAUST page
Join me in testing out EXHAUST !
SHOUT-OUTS!