Cycling through Kyrgyzstan
by @pushpedal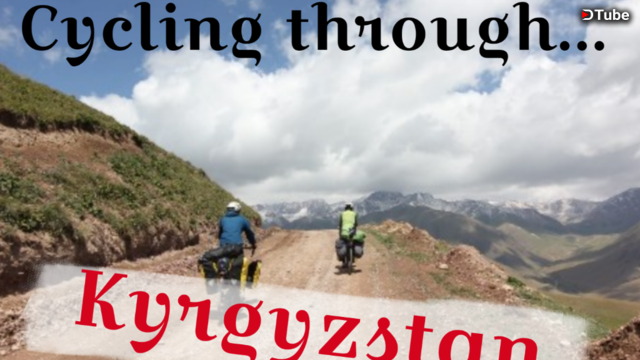 ---
We went through Kyrgyzstan and met a great cycling companion from Italy. Our favourite place was the Moldu-Ashuu pass.
Location: Kyrgyzstan — Bishkek, Issykul, Kara-kul, Sonkul, Kaldamo Pass, Jalalabad, and Kyzyl-Art Pass.
* Video is sized for mobile phone *
Brief Descriptions of the Clips
Practicing on the harmonica that we got in China. We've seen other cyclists carrying musical instruments and wanted one too. A small easy to carry option was a harmonica!
It was very great having the opportunity to cook using a fire. It saved us heaps of money in Kyrgyzstan because the small gas bottles we're surprisingly expensive here
As we cycled around the big Issykul, dark grey clouds were following us, eventually they got us and we got drenched for 3 hours. We warmed up in Kara-kul at a CouchSurfer place
Another opportunity to practice on the harmonica, this time by the lake during sunrise. It was a beautiful and quiet spot we camped in.
As we left Issykul heading to the next lake, above us were some thunderous clouds. We actually got very worried we might be stiked!
Most of the passes in Kyrgyzstan were unsealed road so climbing up with our bikes were really exhausting. On this day we climbed over our first pass and were really happy to see the top
Up a different pass — Kaldamo Pass — we saw some very interesting looking horses. They were rocking but there were no music! We're keeping it a secret why they do that!
We finally made it across Kaldamo pass after a full day climbing up. It was beautiful both side of the pass. We ended up camping just 5 kms from the top
Before arriving into Jalalabad we tried to video a timelapse of the sunset and pitching our tent, and the tent ended up blocking the sunset. We liked the video anyway so it got included
Many stray dogs here and they're actually friendly once you get to know them. Before crossing the border we camped nearby a place with 3 stray dogs, they begged for food and were very afraid of us at first. It only takes a few patting on the head and their tail starts to wag!
Crossing into Tajikistan from Sary-Tash there were 40 km of no man's land which meant nobody was really responsible for the road (technically it is Kyrgyzstan). Nonetheless the road quality wasn't that great
It was really hard climbing that day because Pheng got food poisoning a few days earlier and was still recovering. We had to rest at every hairpin due to altitude and energy
We made it to Tajikistan! To welcome us to the Pamirs, we had to climb up Kyzyl-Art pass which was 4282 m high
Video made using Instagram Stories and Quik.
==== Keep us pedalling ====
Did you enjoy reading our travel content? Perhaps you learn a thing or two. We are actively contributing to the STEEM blockchain because it is really awesome. Also, we would gratefully accept donation in any of these cryptocurrencies: Wallet | Address -------- | ----- STEEM | pushpedal BTC | 1PFGQbJekoUjYji1eLhkU2XYJDZpiFHCSH ETH | 0x5b67d4597e200110af6ad5441383602c476abb82 XLM | qr6q2uuaqhpw6r7avhazvwtqxy8z6s6tuupravqdd0
LOG IN TO VOTE AND COMMENT