Climbing and climbers have produced some classic works of literature, poetry and philosophy. I've just read British climber Andy Kirkpatrick's Psychovertical – here's a quick review.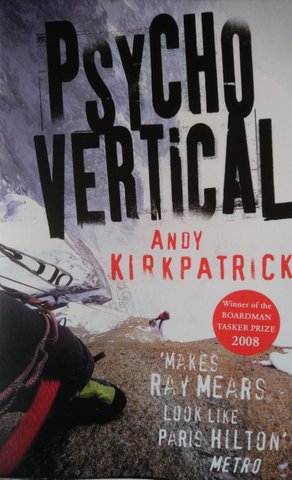 Psychovertical by British climber Andy Kirkpatrick won the 2008 Boardman-Tasker Award for Mountain Literature, following in the – freezing, unsteady – footsteps of classics such as Joe Simpson's Touching the Void . And it deserves to be added to the list of classics of climbing literature.
Structured as a gripping account of a climb of Reticent Wall on Yosemite's El Capitan interspersed with autobiographical scenes, charting Kirkpatrick's development as a man and a climber, the book reads like an adventure novel.
From his working class childhood on an estate in Hull not made any easier by undiagnosed dyslexia, to extreme exploits in the Alps and Patagonia as well as less-exotic British crags, the book is Andy Kirkpatrick's brutally honest attempt to understand the dark forces that seem to drive him into unthinkably (to other people) dangerous situations.
Psychovertical also follows Kirkpatrick's development as a writer. One of the highlights of the book for me is a grimly sardonic but deadpan account of his partner's brutal dismissal of draft after draft of an early article. (Kirkpatrick talks about being a writer in this interview )
I found the book intriguing, sometimes frustrating structurally, but at the same time the cutting between Reticent Wall and tales of other gruelling climbs in other environments – Patagonia, the Alps – makes for a page-turner.
And Kirkpatrick's not above including technical explainers for the layperson who hasn't – and won't, never in a million years! – hung from a skyhook thousands of feet above the ground, or tapped frail shards of metal into hairline cracks in crumbling rock. His drawings are simple and evocative, scary and childishly reassuring at the same time.
So – highly recommended, and available on Amazon here . A film covering some of the same terrain (pardon the pun!) is available now, and Kirkpatrick's own website , with plenty of articles and other good stuff, is worth a visit too.
If you liked this, please reSteem and follow me, and let me know in the replies if you'd like to see more articles like this one.
SHOUT-OUTS!