I don't use telegram, actually -- but have been meaning to check it out. I do however, hang out in a Discord server that I use to chat w/ people about my @exhaust project.
If you use Discord -- you can find me in this channel here (the link should work). There are also a wide variety of other Steem communities that have discord servers -- so it might not be a bad idea to try it out.
---
I'm so sorry, but ran out of STEEM and am trying to find out how much I need to fund my account so I can keep going.
This happens to many new users that don't have much in terms of SteemPower. For now -- I've delegated (essentially, let you borrow) 30 SP so you can interact. If you ever want to check out some numbers related to your account, a couple good resources are Steemd.com or SteemWorld.org (each have their pros and cons). If you check out https://steemd.com/@joanimortenson -- you'll be able to see the amount of transactions you can make with your current level of SteemPower:
| | | |-|-| |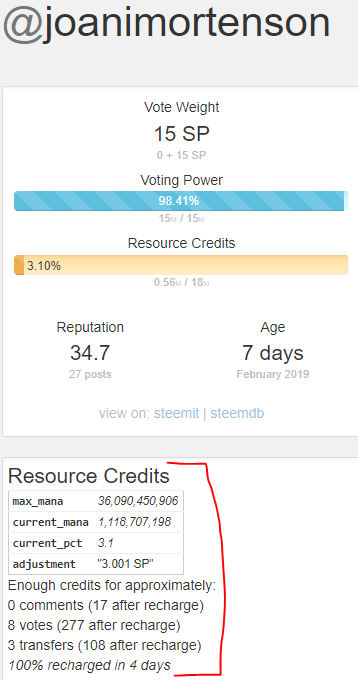 |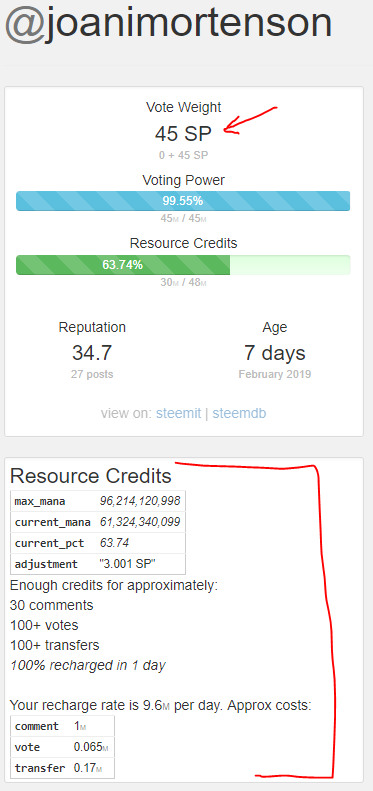 | |Prior to delegating SP|After Delegating SP|
The relatively new Resource Credits system has made it difficult for new accounts to interact with high-frequency (if I recall correctly, this system is only a few months old now) -- this is in an effort to get users to purchase some Steem and PowerUp, as well as (trying to) prevent spam bots.
You can see, generally, what your "RC Recharge Rate" is, and get a sense of how much you can interact. let me know if you have any questions. Pop into the Discord Server if you wanna chat w/o spending some resource credits.
Hope this helps!